The countdown has officially started and I've been blown away by the support I've received from friends in the industry. So many well-known faces from the world of television, sport, entertainment and fashion volunteered their time to join me at the launch of FASHION RELIEF – Ireland's biggest fashion fundraiser in aid of the hunger crisis overseas.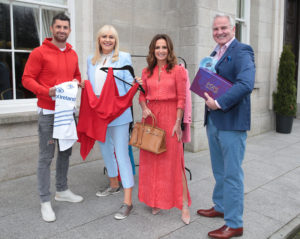 I returned from a visit to East Africa last November and quickly realised that very little was being reported on the region's hunger crisis. How can 20 million people facing starvation not be big news? I also thought about the amount of stuff I have. So many of us have too much while others have nothing.
So I decided to organise an event that I would enjoy – a fun day out of fashion shows and shopping where everyone could bag a designer bargain, and celebrities could sell their unwanted clothes and accessories to help others. I approached Oxfam Ireland and FASHION RELIEF was born!
Oxfam Ireland is the perfect charity to work with, because not only do they work in the areas most affected by the crisis, they also have 48 shops nationwide where the public can drop off their donated items. Together, we knew we could make a difference.
I'm really excited to be hosting such a unique event for such a great cause – and looking forward to seeing you in the RDS on Sunday 13th May for what promises to be a day of designer bargains from the wardrobes of both the public and the stars.
There'll be something for everyone, with clothes and accessories starting at just €5. We'll also be showcasing new pieces from designers and retailers as well as lots of pre-loved donations – not just mine, but from people like Oxfam Ireland ambassadors Andrew Trimble and Lorna Weightman, and celebrities like Cillian Murphy, Miriam O'Callaghan, Brent Pope, Rozanna Purcell, Liam Cunningham, Yvonne Connolly and Kathryn Thomas. The list is endless!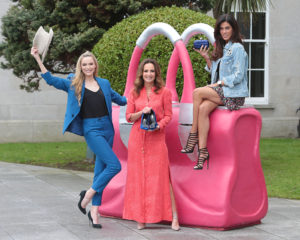 Some of my friends in the industry have kindly offered to staff stalls on the day, while others will be modelling their designer donations during two fashion shows – at 1pm and 3pm. Everyone I know is eager to do their bit. So please, come and join us – you could be making a world of difference.
Tickets for FASHION RELIEF are just €5 – and are on sale now.
Even if you've already got your ticket in the bag, there are lots of other ways to get involved.
Donate your pre-loved clothes and accessories
Bag up any pre-loved or new clothes, accessories or handbags – just make sure they're in good condition and ready for the sale rail.

Clearly label the bag/box FASHION RELIEF.

Drop the bag/box to the nearest Oxfam Ireland shop. Find out where at oxfamireland.org/shops
Or you can organise a workplace clothing collection (men's and women's clothes and accessories) and Oxfam Ireland will pick it up directly from you. Just click here for more.
Volunteer on the day
Become part of the action by volunteering at FASHION RELIEF. You could even staff your own stall, joining some of the stars who have generously pledged their clothes and time. Click here to find out more.
Unwind at a VIP after-party at the InterContinental Hotel
Come and join me for a glass of champers from 5pm that evening. The InterContinental is inviting anyone attending FASHION RELIEF to an exclusive VIP after-party from 5pm in its gorgeously chic ICE Bar. Thanks to our sponsors, the InterContinental Hotel and Marks & Spencer Ireland, you can enjoy a glass of champagne and nibbles and relax after a day's shopping for just €20. All proceeds go to FASHION RELIEF. Places are limited so booking is essential.
For more details on FASHION RELIEF, visit fashionrelief.ie