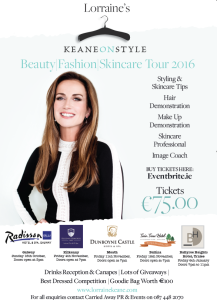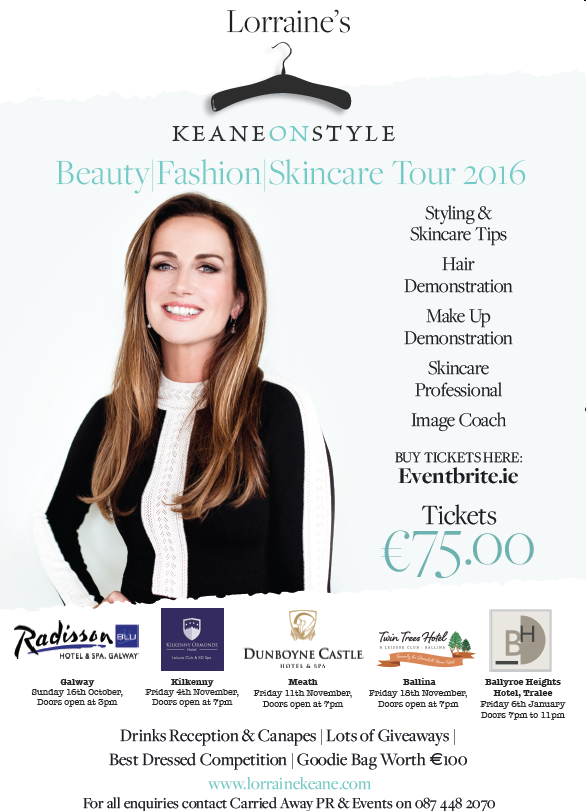 We're Back!
New Keane On Style Tour Begins October 2016
Hi girls it's time to grab your girlfriends, mums, sisters, daughters and prepare for a fun night out.
I am taking to the road again with my team of experts in hair, make up, skincare, styling (ok that's me!) and body shape.  I honestly believe these professionals are the best in the business – they've been keeping me 'red carpet ready' my entire career (no mean feat 😳)
We also have some of Ireland's (and my) favourite designers and boutiques for a fashion show of all the season's new collections.  You can shop in our Pop-Up Shops or if you'd prefer to just get loads of free stuff, there are lots of spot prizes to be won at each event.
Not forgetting the all-important luxury goody bags with all of my favourite products. !
Tickets €75 will include all of the above and two complimentary drinks and food.
Hope to see you there!
Lorraine X
Radisson Hotel Galway – Sunday 16th October, Doors open 3pm.
Kilkenny Ormonde Hotel – Friday 4th November, Doors open 7pm.
Dunboyne Castle Hotel, Co Meath – Friday 11th November. Doors Open 7pm
Twin Trees Hotel, Ballina – Friiday 18th November. Doors open 7pm
See all the photos from the last Keane On Style event at the Pigeon House Delgany, below.
We had a wonderful evening at the latest Keane On Style event in the beautiful Pigeon House, Delgany. It's one of my favourite restaurants (sister to the fab Pigeon House in Clontarf) but it's also one  of the best venues for a party or wedding (have a look at their website here). Everyone was treated to the most delicious tasting plates and wine as well as all the usual goody bag treats, hair and makeup demos and beauty and skincare advice and of course the fashion show.
KEANE ON STYLE WINS COVETED AWARD!
Thanks to Cork Fashion Week for giving me the award for 'Most Influential Person in Fashion & Beauty' for 2015 for #KeaneOnStyle.
It's an incredible accolade not only for me but for all the wonderful Designers, Boutiques, Beauty Professionals and Skincare professional I showcase at every event. Women supporting women that's our motto! But we've nothing against boys, so we don't leave anyone out. If we think you are 'the best in the business' there is a place for you on the "Keane On Style" tour – a place to 'show your wears' and share your expertise!
Knowledge is key ladies!
Upcoming Events…
I am so happy to announce the dates for the first leg of our new "Keane On Style" tour for Autumn/Winter 2015/16….
6th November – The Brehon Hotel, Killarney – SOLD OUT!
3rd December – Harveys Point, Donegal – SOLD OUT!
30th January – City North Hotel, Gormanstown, Co Meath (Fundraiser for Boomerang Cafe & Youth Centre, Drogheda)
2nd March – The Pigeon House, Delgany, Co. Wicklow
Expect all the wonderful elements that made our previous "Keane On Style" events a sell-out!
What your ticket entitles you to?
A Fashion Show featuring some of Ireland's best Independent Boutiques, Designers and Online retail stores, Hair and Make-up demonstrations from Ireland's top professionals, Talks and Tips from Experts in the fields of Non-Invasive Cosmetic procedures, Skincare, Health, Beauty & Lifestyle, yummy food and wine, spot prizes and free draws.  There is also a goody bag for everyone who attends.
Some photos from our previous events……
Keane On Style at The City North Hotel in aid of The Boomerang Youth Centre, Drogheda
Here are a few of the twitter and Instagram pics taken by the fantastic crowd at Harvey's Point, Donegal, with thanks to Zab Events …..
And some  photos from the Fashion Show at The Brehon Hotel, Killarney…..
Onstage at The Brehon Hotel, Killarney…
Some Social Pics From The Brehon Hotel, Killarney…..
Keane On Style at The Blue Haven, Kinsale and Cafe du Journal, Monkstown…..