Ok, so couture might be pushing it a little but the pieces I have up styled for this feature with the help of Zip Yard in Dun Laoghaire are one-off pieces.
Never underestimate the power of a good seamstress or alterations person.  Believe me, when you find one, hold on to her/him. They are worth their weight in gold.
I love the reassurance of knowing no-one else will be wearing the same as me, so up-styling is my new hobby.
I love shopping in Charity shops, Second hand shops, Vintage shops or cheap online websites and making alterations to create a unique piece.
For example the vintage dress (Picture 1) I bought at The Vintage Goddess in Blackrock market.  I bought it for the fabric and the stunning beading detail but the shape was just a little, well, dated. So, to modernise it I asked the wonderful Danuta in Zip Yard Dun Laoghaire to trim the neck line down a little to reveal a wider (more flattering) boat neck, cinch in the waist more and the piece-de-resistance; completely cut out the back to the waist.  I love the reserved look at the front, only to reveal a sexy surprise when you turn around.
This dress cost me €70 in The Vintage Goddess in Blackrock market and I spent a further €60 on the alterations (including cups so no stick on bra worries).  A grand total of €130 for a one-off designer dress that no-one else has.
And the finished piece…………
The second dress idea (Picture 2) came after I decided to buy online on a website I found on Facebook that I had never shopped on before.  The result was a disaster. The dress that arrived was completely different to the one pictured in quality, shape and design.
Thank goodness it had only cost €20 – I know, what was I expecting? Rather than wasting the dress and throwing it out or giving it away I decided to create a little challenge for myself.  I went on Pinterest and in less than an hour found this fabulous designer wedding dress worth over €2,000.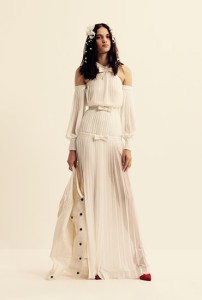 Next stop Zip Yard Dun Laoghaire.  This time it was Tina who took on the Lorraine challenge!
I showed Tina the picture of the designer dress and talked her through how I thought we could achieve something similar, but without the wedding dress look.  My dress would have to be more of a day dress in Summertime.
For this one we took it in 3 stages as Tina wanted to be sure that she was cutting the right shape.  The lining was the last bit as my online dress was unlined and therefore quite transparent.
Two packets of pearl buttons from Home Focus at Hickeys €5/pack and a piece of grosgrain ribbon for a belt €5 and my unique one-off dress was ready to wear!
Here's the end result……
The alterations cost €80 (that included the lining that they sourced for me, and 3 fittings) + €15 for my Hickeys buttons and trim/belt, not forgetting the original price of the dress €20, so a grand total of €115.  Considering it's designer sister online is €2,095 that's a saving of nearly €2,000.  I'm very happy with that!
My third up styling task idea came after I craved a Pinko dress but two things were stopping me from buying it
1. The shape – it was the wrong length for me, hitting me at the knee – a really difficult length to pull off and
2. The Price tag.  It was almost €500 for a dress that on the upside would no doubt get noticed, but the downside of this is you cannot wear a dress like this too often.  I also have two similar dresses (pictures 2 & 3 below) so I just couldn't justify it.
Then on a trip to France I came across a 'cheap & cheerful' little boutique with a dress and top in the exact same colour.  At a mere €20 and €25 each they worth taking a chance on for Lorraine Challenge number 3.
With the Pinko dress and the other dresses in my wardrobe in mind I decided to give it a go….
Armed with my ideas I headed back up to Zip Yard.  Where two (top & dress) became one two-piece (matching top & skirt).
Here are the pics of before, during and after.
We ended up having a few options…………
…….but I think the one I decided on is the best.
So this little couture dress cost me;
Top; €20 + Dress; €25 + Zip Yard alterations; €70 = €115
So I got a two-piece that was quite literally made for me for less than a quarter of the price of the Pinko one that did nothing for me.
Result!
I have also used Brendan McDermott on Dame Street (087 1305517).  He is a Designer  but also does the alterations for Brown Thomas and Chanel.  I would totally trust Brendan with my couture pieces.  As he is a designer first he will always advise what will work best which is really helpful.
Perfect Fit in Rathfarnham Shopping Centre are also fantastic and really reasonably priced.